From the fields of Donegal to the streets of New York, John McDonagh has always been behind a wheel of some sort.
The famous Yellow Cab driver appeared on TV with Stephen Fry and Richard Hammond of Top Gear, to name a few.
Over the coming weeks, John (68) wants to take you on the journey of his amazing life too, with his stage performance Donegal and Dublin.
Yes, he also has a critically acclaimed play – Off the Meter, on the Record.
The solo show will take place in the capital at the end of this month and in intimacy Abbey Center for the Arts in Ballychanon on October 8.
However, he wasn't always photographed with TV stars and experiencing the bright lights of the city that never sleeps.
John said that while he was born in New York Donegal Daily This week he spent his first days of learning at Little National Little School (see bottom photo), near Pettigo.
The remote Lettercrane is a town on the Donegal side of the border, near the Diocese of Tyrone Aghyaran.
His mother, Cathy (née Monaghan) was from the outermost Cashlini district and his father was Joseph McDonagh of Aguiran, a former owner of Blacktown Arms.
His parents died within months of each other in New York in 1999.
"I spent much of my youth there, in Letterran, and I went to first grade (young children) at the local school," he recalls.
"Since the 1950s, we have been brought back and forth across the Atlantic during the summer months.
"We wanted to play on the streets of New York, but my mom wanted us off the streets of New York.
"So, you sent us to Donegal as children and spent my days in the swampland or helping my uncle raise sheep. I remember going to the market in Stranorlar several times."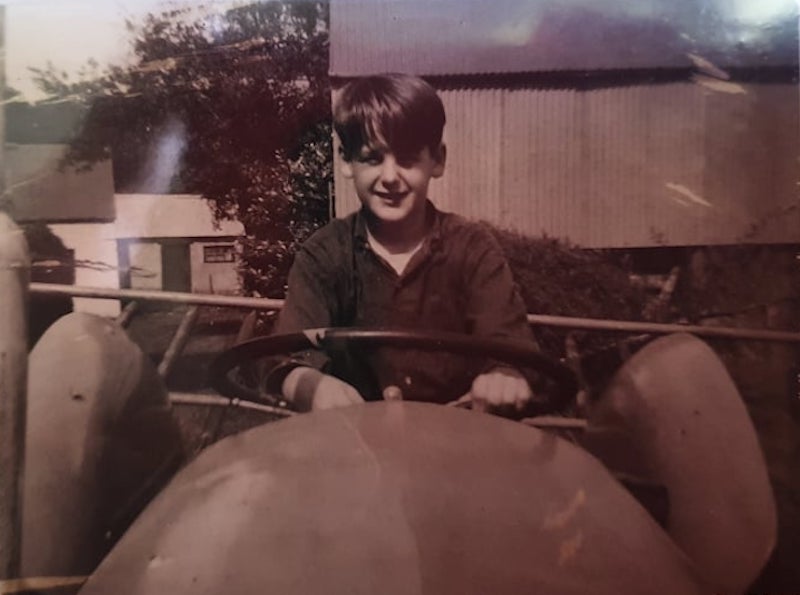 John says he didn't like country life in Donegal at first, but ended up loving the place and, of course, honed his driving skills on an old Gray Ferguson tractor (above).
He also learned the ancient Irish art of storytelling, something he might stand up to later in his life.
After "surviving" being a taxi driver for more than 40 years in bustling New York, John decides to start telling "Taxi Driver Stories" at fringe Manhattan fests.
It attracted rave reviews, however, and he admits that the show was "everywhere".
Fortunately, Kieran O'Reilly from the Irish Repertory Theater took him under the director's wing.
The Irish Rep is the award-winning off-Broadway venue for Irish and Irish-American drama in New York City.
Under the expert guidance of O'Reilly, the show has been adapted and shortened to become a stellar multimedia show that is given to homes packed into The Rep for three months.
"Basically, (the background of the play) is on a laptop now, so I take it everywhere," he explained.
"I was in Boston and they loved it. I will take it to Donegal and Dublin too."
John puts his stage success on the basis of luck and being in the right place at the right time.
"I couldn't get arrested for the first 20 years, then the internet came along and I ended up on reality TV," he adds.
"I had the same stories for the first 20 years and then I was able to bring the show to a much wider audience. Before that, I played with 20 people every night at Irish venues.
"The Irish Repertory Theater was big – they turned it into a play where I'd been telling stories before."
2 Johnnies (2FM) were scheduled to come to meet him, but the pandemic hit, so he hopes to be interviewed on their hit show when he lands in Dublin for a Guinness.
Oh, that's another story!
"Nine years ago, the guy didn't have the full money for his wages," John explains.
"He told me he owns a famous pub in Dublin called Gaffney's. So, he wrote me an international paper for a pint of Guinness in his pub, and I'll get him to—it would be the most expensive pints ever."
John still works on "The Strange Day, Here and There" as a taxi driver. But, for now, he is focusing on his career.
In "Off the Meter," you'll hear stories like how Stephen Fry (see video above) took a "mob" club in Queens and taught Top Gear's Richard Hammond how to drive a yellow cab.
He also talked about his appearance on The Daily Show and how Salman Rushdie chose him to read a poem at the PEN Festival of World Literary Voices when the famous writer was the president there.
Let John take you on an upside-down journey through the streets of New York, and the lanes of Lettercran, at one of his much-anticipated upcoming shows.
He will perform Off the Meter, on the Record at the Sean O'Casey Theater on September 29-30 and October 1.
will also perform in Abbey Center for the ArtsBallychanon, Saturday, October 8, 8 p.m.
For more information, log on to John's private website: www.offthemeter.net
Celebrity NYC "cabbie" is on a unique journey back to Donegal! Last update: September 14, 2022 by Cronan Scanlon
Tags: