Stephen Kenny faces a selection dilemma in defense ahead of Saturday's trip to Glasgow, and the Irish manager admitted that justice is sometimes overlooked when striking the right balance for his side.
Andrew Umubamidelli has pulled out of the squad that travels to face Scotland at Hampden Park for the Nations League meet, while Matt Doherty, Seamus Coleman and Shane Duffy struggled for game time at the start of the season.
Doherty started the season on the bench at Tottenham after returning from the injury that kept him out of the final weeks of the season, as well as missing the four matches in June with his country.
Likewise, Coleman started the season with a comeback from injury, and while playing off the bench for Everton's recent Premier League matches, he was limited to League Cup matches with Goodison Park.
Duffy appeared in three of the four internationals in June, missed the last trip away to Poland to take on Ukraine through suspension, and moved to Fulham before the new season, but was unable to secure a starting place at Craven Cottage. .
With Coleman and Doherty absent for the Ukraine-Scotland games in June, Kenny has turned to Alan Brown to sit on the right side of the defence, however, the two regular right-backs are expected to battle it out. Exit from the starting point on Saturday.
Duffy's place in the squad has been rocky as a result of his appearances going green over the summer, most notably in Scotland's win, however, Nathan Collins, John Egan and Dara O'Shea have all played regularly at club level this season – and Collins' first-leg trophies against Ukraine are still present in the MEMORY – The Derry big man must fear for his Saturday kickoff.
"Sometimes, it's not fair to pick a team," Kenny said at a press conference on Tuesday.
This answer was given in relation to a question about Jason Mullombie's good performance in Ireland's recent games, but could be relevant when it comes to selecting three backers for the Scotland game.
Egan also missed the away game in Ukraine, while O'Shea played smoothly, looking calm, composed and confident alongside Collins and Darrag Lenihan, however, perhaps Kenny was keen to maintain Duffy's air-dominance over the Scottish side who was smitten work. The ball is rising from both sides in the opposite game.
"It's not ideal to have any of the players who don't play for their teams," Kenny said. "It's not an ideal situation, especially over a long period of time.
"I don't think I can agree with a fixed rule, one size fits all, we have to judge each issue based on its merits, the individual strengths of the team, and what we need.
"You wouldn't want to go in with too many players who haven't played matches," he added, possibly suggesting he might make an exception for Duffy.
"It's a dilemma. Nothing straightforward," Kenny said when asked if the team selection would be determined by players who play regularly, which would be a reward for those who have left their clubs to maintain their international career.
"Some players who play in the Premier League, if they go to the Championship, for example, they will probably play every week.
"It's a dilemma. Some players can adapt, not play for a while and then put in a great performance. Then you have to take into account the length of time, the positions, the players who play in the position they are competing with and so it's a dilemma."
"But these are issues that we don't complain about. I'm happy with the players at my disposal. I'm happy with the position of the group, both individually and collectively, so it's definitely not something to complain about.
"It's just a challenge we have to go and do it right on Saturday."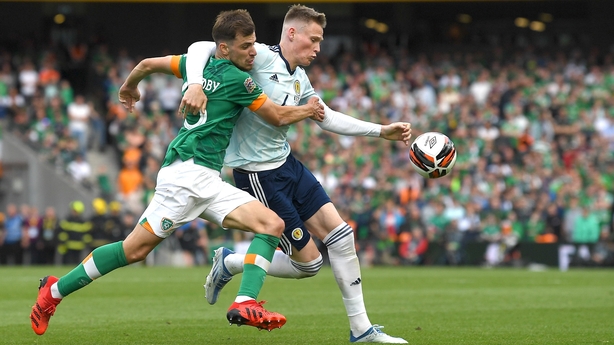 Coming back to Mullombi, the West Brom player is credited with his energetic performances in the last two games of the summer window, being heavily involved in the 3-0 win over Scotland as well as making a real turnaround in the first leg with Ukraine. .
"Jason has played really well this season with West Bromwich Albion, he has been quite consistent and from that point of view he has had more games under his belt," said Kenny.
"He's been in and out a little bit last year, he's been more or less present this year which is good for him.
"It would be difficult if I made that choice, but I suppose there are quite a few players you can say that about," Kenny added when asked if it would be difficult to leave the Waterford man.
"Sometimes fairness doesn't come in choosing a team. You just have to do what you feel is right."
Follow the Republic of Ireland vs Scotland match on Saturday (kick-off at 7.45pm) via our live blog on RTÉ.ie/Sports and the RTÉ News app, watch live on RTÉ 2 and RTÉ Player, or listen to national radio commentary on RTÉ Radio 1
We need your consent to download this YouTube contentWe use YouTube to manage additional content that can set cookies on your device and collect data about your activity. Please review their details and accept them to upload content.Manage Preferences