Manchester United get the job done, and they're back in the mix in Group E!

","elementId":"cca38ffb-40b1-4d25-9cf2-5487c5a56f45″}],"attributes":{"pinned":false,"keyEvent":true,"summary":false},"blockCreatedOn":1663266808000,"blockCreatedOnDisplay":"14.33 EDT","blockLastUpdated":1663266873000,"blockLastUpdatedDisplay":"14.34 EDT","blockFirstPublished":1663266873000,"blockFirstPublishedDisplay":"14.34 EDT","blockFirstPublishedDisplayNoTimezone":"14.34″,"title":"FULL TIME: Sheriff 0-2 Manchester United","contributors":[],"primaryDateLine":"Thu 15 Sep 2022 14.34 EDT","secondaryDateLine":"First published on Thu 15 Sep 2022 11.45 EDT"},{"id":"632361358f08ee6e81d2a878″,"elements":[{"_type":"model.dotcomrendering.pageElements.TextBlockElement","html":"

There's just enough time left for Malacia to block a Diop volley, and that's the end of the first half. No added time. Sheriff have asked a few questions, but United have carried greater threat up front, and will be very happy with their work so far.

","elementId":"4114a81a-8936-48fd-b360-447721ecde67″}],"attributes":{"pinned":false,"keyEvent":true,"summary":false},"blockCreatedOn":1663263029000,"blockCreatedOnDisplay":"13.30 EDT","blockLastUpdated":1663263113000,"blockLastUpdatedDisplay":"13.31 EDT","blockFirstPublished":1663263113000,"blockFirstPublishedDisplay":"13.31 EDT","blockFirstPublishedDisplayNoTimezone":"13.31″,"title":"HALF TIME: Sheriff 0-2 Manchester United","contributors":[],"primaryDateLine":"Thu 15 Sep 2022 14.34 EDT","secondaryDateLine":"First published on Thu 15 Sep 2022 11.45 EDT"},{"id":"63235fb58f08ee6e81d2a865″,"elements":[{"_type":"model.dotcomrendering.pageElements.TextBlockElement","html":"

Ronaldo gives Koval the eyes, sends the keeper diving to his right, and slams the ball down the middle. That's his first goal of the season!

","elementId":"4164dbb6-a399-4222-8b75-04fe79228928″},{"_type":"model.dotcomrendering.pageElements.ImageBlockElement","media":{"allImages":[{"index":0,"fields":{"height":"1507″,"width":"2511″},"mediaType":"Image","mimeType":"image/jpeg","url":"https://media.guim.co.uk/3834371a3599e0132248708e8fe1b5a67ac198f7/0_167_2511_1507/2511.jpg"},{"index":1,"fields":{"isMaster":"true","height":"1507″,"width":"2511″},"mediaType":"Image","mimeType":"image/jpeg","url":"https://media.guim.co.uk/3834371a3599e0132248708e8fe1b5a67ac198f7/0_167_2511_1507/master/2511.jpg"},{"index":2,"fields":{"height":"1200″,"width":"2000″},"mediaType":"Image","mimeType":"image/jpeg","url":"https://media.guim.co.uk/3834371a3599e0132248708e8fe1b5a67ac198f7/0_167_2511_1507/2000.jpg"},{"index":3,"fields":{"height":"600″,"width":"1000″},"mediaType":"Image","mimeType":"image/jpeg","url":"https://media.guim.co.uk/3834371a3599e0132248708e8fe1b5a67ac198f7/0_167_2511_1507/1000.jpg"},{"index":4,"fields":{"height":"300″,"width":"500″},"mediaType":"Image","mimeType":"image/jpeg","url":"https://media.guim.co.uk/3834371a3599e0132248708e8fe1b5a67ac198f7/0_167_2511_1507/500.jpg"},{"index":5,"fields":{"height":"84″,"width":"140″},"mediaType":"Image","mimeType":"image/jpeg","url":"https://media.guim.co.uk/3834371a3599e0132248708e8fe1b5a67ac198f7/0_167_2511_1507/140.jpg"}]},"data":{"alt":"The Sheriff 'keeper jumps out of the way of Ronaldo's spot-kick.","caption":"The Sheriff 'keeper jumps out of the way of Ronaldo's spot-kick.","credit":"Photograph: Sergei Grits/AP"},"displayCredit":true,"role":"inline","imageSources":[{"weighting":"inline","srcSet":[{"src":"https://i.guim.co.uk/img/media/3834371a3599e0132248708e8fe1b5a67ac198f7/0_167_2511_1507/master/2511.jpg?width=620&quality=85&auto=format&fit=max&s=43146687478e8f07829aff2678413917″,"width":620},{"src":"https://i.guim.co.uk/img/media/3834371a3599e0132248708e8fe1b5a67ac198f7/0_167_2511_1507/master/2511.jpg?width=620&quality=45&auto=format&fit=max&dpr=2&s=8600d3329eb6677893fea3cfc4c3f93c","width":1240},{"src":"https://i.guim.co.uk/img/media/3834371a3599e0132248708e8fe1b5a67ac198f7/0_167_2511_1507/master/2511.jpg?width=605&quality=85&auto=format&fit=max&s=a69661490cd3aac36f15ef398e71aaeb","width":605},{"src":"https://i.guim.co.uk/img/media/3834371a3599e0132248708e8fe1b5a67ac198f7/0_167_2511_1507/master/2511.jpg?width=605&quality=45&auto=format&fit=max&dpr=2&s=a56c7655c2403e9fb17b5238051402bd","width":1210},{"src":"https://i.guim.co.uk/img/media/3834371a3599e0132248708e8fe1b5a67ac198f7/0_167_2511_1507/master/2511.jpg?width=445&quality=85&auto=format&fit=max&s=5c91c11fe02dc49eb0ed93991b3322b9″,"width":445},{"src":"https://i.guim.co.uk/img/media/3834371a3599e0132248708e8fe1b5a67ac198f7/0_167_2511_1507/master/2511.jpg?width=445&quality=45&auto=format&fit=max&dpr=2&s=8bf05b2fb7387c29e604e6021d6a2c4f","width":890}]},{"weighting":"thumbnail","srcSet":[{"src":"https://i.guim.co.uk/img/media/3834371a3599e0132248708e8fe1b5a67ac198f7/0_167_2511_1507/master/2511.jpg?width=140&quality=85&auto=format&fit=max&s=fa9783f37b77bcdc0fb11dbcb123efab","width":140},{"src":"https://i.guim.co.uk/img/media/3834371a3599e0132248708e8fe1b5a67ac198f7/0_167_2511_1507/master/2511.jpg?width=140&quality=45&auto=format&fit=max&dpr=2&s=7941fc8725285f888332684e151f47e7″,"width":280},{"src":"https://i.guim.co.uk/img/media/3834371a3599e0132248708e8fe1b5a67ac198f7/0_167_2511_1507/master/2511.jpg?width=120&quality=85&auto=format&fit=max&s=826a82cd8314e98365d8e9ce05f53ce1″,"width":120},{"src":"https://i.guim.co.uk/img/media/3834371a3599e0132248708e8fe1b5a67ac198f7/0_167_2511_1507/master/2511.jpg?width=120&quality=45&auto=format&fit=max&dpr=2&s=3887880dcfd292275a8ae40b4a79e432″,"width":240}]},{"weighting":"supporting","srcSet":[{"src":"https://i.guim.co.uk/img/media/3834371a3599e0132248708e8fe1b5a67ac198f7/0_167_2511_1507/master/2511.jpg?width=380&quality=85&auto=format&fit=max&s=914fc442807ceee566634b5a3ef33b62″,"width":380},{"src":"https://i.guim.co.uk/img/media/3834371a3599e0132248708e8fe1b5a67ac198f7/0_167_2511_1507/master/2511.jpg?width=380&quality=45&auto=format&fit=max&dpr=2&s=25c35a21ca83bd1c6e9d937fa2b68b1b","width":760},{"src":"https://i.guim.co.uk/img/media/3834371a3599e0132248708e8fe1b5a67ac198f7/0_167_2511_1507/master/2511.jpg?width=300&quality=85&auto=format&fit=max&s=08b6b7b04cf0d2042ef290dd512bdaa8″,"width":300},{"src":"https://i.guim.co.uk/img/media/3834371a3599e0132248708e8fe1b5a67ac198f7/0_167_2511_1507/master/2511.jpg?width=300&quality=45&auto=format&fit=max&dpr=2&s=6378911a2a93f76b2140c35f9bcedc49″,"width":600},{"src":"https://i.guim.co.uk/img/media/3834371a3599e0132248708e8fe1b5a67ac198f7/0_167_2511_1507/master/2511.jpg?width=620&quality=85&auto=format&fit=max&s=43146687478e8f07829aff2678413917″,"width":620},{"src":"https://i.guim.co.uk/img/media/3834371a3599e0132248708e8fe1b5a67ac198f7/0_167_2511_1507/master/2511.jpg?width=620&quality=45&auto=format&fit=max&dpr=2&s=8600d3329eb6677893fea3cfc4c3f93c","width":1240},{"src":"https://i.guim.co.uk/img/media/3834371a3599e0132248708e8fe1b5a67ac198f7/0_167_2511_1507/master/2511.jpg?width=605&quality=85&auto=format&fit=max&s=a69661490cd3aac36f15ef398e71aaeb","width":605},{"src":"https://i.guim.co.uk/img/media/3834371a3599e0132248708e8fe1b5a67ac198f7/0_167_2511_1507/master/2511.jpg?width=605&quality=45&auto=format&fit=max&dpr=2&s=a56c7655c2403e9fb17b5238051402bd","width":1210},{"src":"https://i.guim.co.uk/img/media/3834371a3599e0132248708e8fe1b5a67ac198f7/0_167_2511_1507/master/2511.jpg?width=445&quality=85&auto=format&fit=max&s=5c91c11fe02dc49eb0ed93991b3322b9″,"width":445},{"src":"https://i.guim.co.uk/img/media/3834371a3599e0132248708e8fe1b5a67ac198f7/0_167_2511_1507/master/2511.jpg?width=445&quality=45&auto=format&fit=max&dpr=2&s=8bf05b2fb7387c29e604e6021d6a2c4f","width":890}]},{"weighting":"showcase","srcSet":[{"src":"https://i.guim.co.uk/img/media/3834371a3599e0132248708e8fe1b5a67ac198f7/0_167_2511_1507/master/2511.jpg?width=860&quality=85&auto=format&fit=max&s=bec58699a3528fc40d2e815c74f427f6″,"width":860},{"src":"https://i.guim.co.uk/img/media/3834371a3599e0132248708e8fe1b5a67ac198f7/0_167_2511_1507/master/2511.jpg?width=860&quality=45&auto=format&fit=max&dpr=2&s=d31a2345771c369a36576f92280ac87b","width":1720},{"src":"https://i.guim.co.uk/img/media/3834371a3599e0132248708e8fe1b5a67ac198f7/0_167_2511_1507/master/2511.jpg?width=780&quality=85&auto=format&fit=max&s=f7c43edfbc631c266f163a526323bc28″,"width":780},{"src":"https://i.guim.co.uk/img/media/3834371a3599e0132248708e8fe1b5a67ac198f7/0_167_2511_1507/master/2511.jpg?width=780&quality=45&auto=format&fit=max&dpr=2&s=b3fcf7c3fa14b79f1aa23d1f7bb0aeb7″,"width":1560},{"src":"https://i.guim.co.uk/img/media/3834371a3599e0132248708e8fe1b5a67ac198f7/0_167_2511_1507/master/2511.jpg?width=620&quality=85&auto=format&fit=max&s=43146687478e8f07829aff2678413917″,"width":620},{"src":"https://i.guim.co.uk/img/media/3834371a3599e0132248708e8fe1b5a67ac198f7/0_167_2511_1507/master/2511.jpg?width=620&quality=45&auto=format&fit=max&dpr=2&s=8600d3329eb6677893fea3cfc4c3f93c","width":1240},{"src":"https://i.guim.co.uk/img/media/3834371a3599e0132248708e8fe1b5a67ac198f7/0_167_2511_1507/master/2511.jpg?width=605&quality=85&auto=format&fit=max&s=a69661490cd3aac36f15ef398e71aaeb","width":605},{"src":"https://i.guim.co.uk/img/media/3834371a3599e0132248708e8fe1b5a67ac198f7/0_167_2511_1507/master/2511.jpg?width=605&quality=45&auto=format&fit=max&dpr=2&s=a56c7655c2403e9fb17b5238051402bd","width":1210},{"src":"https://i.guim.co.uk/img/media/3834371a3599e0132248708e8fe1b5a67ac198f7/0_167_2511_1507/master/2511.jpg?width=445&quality=85&auto=format&fit=max&s=5c91c11fe02dc49eb0ed93991b3322b9″,"width":445},{"src":"https://i.guim.co.uk/img/media/3834371a3599e0132248708e8fe1b5a67ac198f7/0_167_2511_1507/master/2511.jpg?width=445&quality=45&auto=format&fit=max&dpr=2&s=8bf05b2fb7387c29e604e6021d6a2c4f","width":890}]},{"weighting":"halfwidth","srcSet":[{"src":"https://i.guim.co.uk/img/media/3834371a3599e0132248708e8fe1b5a67ac198f7/0_167_2511_1507/master/2511.jpg?width=620&quality=85&auto=format&fit=max&s=43146687478e8f07829aff2678413917″,"width":620},{"src":"https://i.guim.co.uk/img/media/3834371a3599e0132248708e8fe1b5a67ac198f7/0_167_2511_1507/master/2511.jpg?width=620&quality=45&auto=format&fit=max&dpr=2&s=8600d3329eb6677893fea3cfc4c3f93c","width":1240},{"src":"https://i.guim.co.uk/img/media/3834371a3599e0132248708e8fe1b5a67ac198f7/0_167_2511_1507/master/2511.jpg?width=605&quality=85&auto=format&fit=max&s=a69661490cd3aac36f15ef398e71aaeb","width":605},{"src":"https://i.guim.co.uk/img/media/3834371a3599e0132248708e8fe1b5a67ac198f7/0_167_2511_1507/master/2511.jpg?width=605&quality=45&auto=format&fit=max&dpr=2&s=a56c7655c2403e9fb17b5238051402bd","width":1210},{"src":"https://i.guim.co.uk/img/media/3834371a3599e0132248708e8fe1b5a67ac198f7/0_167_2511_1507/master/2511.jpg?width=445&quality=85&auto=format&fit=max&s=5c91c11fe02dc49eb0ed93991b3322b9″,"width":445},{"src":"https://i.guim.co.uk/img/media/3834371a3599e0132248708e8fe1b5a67ac198f7/0_167_2511_1507/master/2511.jpg?width=445&quality=45&auto=format&fit=max&dpr=2&s=8bf05b2fb7387c29e604e6021d6a2c4f","width":890}]},{"weighting":"immersive","srcSet":[{"src":"https://i.guim.co.uk/img/media/3834371a3599e0132248708e8fe1b5a67ac198f7/0_167_2511_1507/master/2511.jpg?width=1900&quality=85&auto=format&fit=max&s=9a6e1a910b4df2889ab93cd0621dd648″,"width":1900},{"src":"https://i.guim.co.uk/img/media/3834371a3599e0132248708e8fe1b5a67ac198f7/0_167_2511_1507/master/2511.jpg?width=1900&quality=45&auto=format&fit=max&dpr=2&s=d20dee3ad7994e58061166a066aed122″,"width":3800},{"src":"https://i.guim.co.uk/img/media/3834371a3599e0132248708e8fe1b5a67ac198f7/0_167_2511_1507/master/2511.jpg?width=1300&quality=85&auto=format&fit=max&s=8811fa04ae747cbe58eaa0d116444fd4″,"width":1300},{"src":"https://i.guim.co.uk/img/media/3834371a3599e0132248708e8fe1b5a67ac198f7/0_167_2511_1507/master/2511.jpg?width=1300&quality=45&auto=format&fit=max&dpr=2&s=47a295a5606d4cef11bb1de9a35c2931″,"width":2600},{"src":"https://i.guim.co.uk/img/media/3834371a3599e0132248708e8fe1b5a67ac198f7/0_167_2511_1507/master/2511.jpg?width=1140&quality=85&auto=format&fit=max&s=0e175e6cb01852810a3fa980dcf3e2ee","width":1140},{"src":"https://i.guim.co.uk/img/media/3834371a3599e0132248708e8fe1b5a67ac198f7/0_167_2511_1507/master/2511.jpg?width=1140&quality=45&auto=format&fit=max&dpr=2&s=f9c2e6a027ecc8a5a8e3acf94487a8ab","width":2280},{"src":"https://i.guim.co.uk/img/media/3834371a3599e0132248708e8fe1b5a67ac198f7/0_167_2511_1507/master/2511.jpg?width=980&quality=85&auto=format&fit=max&s=c56819e9a395524085d11a6bb657550e","width":980},{"src":"https://i.guim.co.uk/img/media/3834371a3599e0132248708e8fe1b5a67ac198f7/0_167_2511_1507/master/2511.jpg?width=980&quality=45&auto=format&fit=max&dpr=2&s=a336746f5ee6d009df4cfdf48396e46f","width":1960},{"src":"https://i.guim.co.uk/img/media/3834371a3599e0132248708e8fe1b5a67ac198f7/0_167_2511_1507/master/2511.jpg?width=740&quality=85&auto=format&fit=max&s=7c3bd5389f43528c2cd10cfbad7a5fe0″,"width":740},{"src":"https://i.guim.co.uk/img/media/3834371a3599e0132248708e8fe1b5a67ac198f7/0_167_2511_1507/master/2511.jpg?width=740&quality=45&auto=format&fit=max&dpr=2&s=53540736e2a5911bb4b013a157ac6b78″,"width":1480},{"src":"https://i.guim.co.uk/img/media/3834371a3599e0132248708e8fe1b5a67ac198f7/0_167_2511_1507/master/2511.jpg?width=660&quality=85&auto=format&fit=max&s=fc60cc1fecef23f77f1243b5dbbeb9eb","width":660},{"src":"https://i.guim.co.uk/img/media/3834371a3599e0132248708e8fe1b5a67ac198f7/0_167_2511_1507/master/2511.jpg?width=660&quality=45&auto=format&fit=max&dpr=2&s=dff9ad765462851aa59b89cf8279b69b","width":1320},{"src":"https://i.guim.co.uk/img/media/3834371a3599e0132248708e8fe1b5a67ac198f7/0_167_2511_1507/master/2511.jpg?width=480&quality=85&auto=format&fit=max&s=26a80c89549c7786542bf9e558684da7″,"width":480},{"src":"https://i.guim.co.uk/img/media/3834371a3599e0132248708e8fe1b5a67ac198f7/0_167_2511_1507/master/2511.jpg?width=480&quality=45&auto=format&fit=max&dpr=2&s=548ae135c7315bb5cc5d57bf1b075336″,"width":960}]}],"elementId":"00e4f2a7-33b0-41ab-945b-92b1d69b6682″}],"attributes":{"pinned":false,"keyEvent":true,"summary":false},"blockCreatedOn":1663262645000,"blockCreatedOnDisplay":"13.24 EDT","blockLastUpdated":1663263863000,"blockLastUpdatedDisplay":"13.44 EDT","blockFirstPublished":1663262713000,"blockFirstPublishedDisplay":"13.25 EDT","blockFirstPublishedDisplayNoTimezone":"13.25″,"title":"GOAL! Sheriff 0-2 Manchester United (Ronaldo 39 pen)","contributors":[],"primaryDateLine":"Thu 15 Sep 2022 14.34 EDT","secondaryDateLine":"First published on Thu 15 Sep 2022 11.45 EDT"},{"id":"63235f788f083f878e70e237″,"elements":[{"_type":"model.dotcomrendering.pageElements.TextBlockElement","html":"

38 min: Antony wedges down the right for Dalot, who races into the box after the ball. Before he can get there, Kpozo clips him from behind. Penalty! Kpozo goes into the book for his panicked lunge.

","elementId":"1d5849ff-1e19-4758-a1b5-0308848e7172″},{"_type":"model.dotcomrendering.pageElements.ImageBlockElement","media":{"allImages":[{"index":0,"fields":{"height":"2100″,"width":"3500″},"mediaType":"Image","mimeType":"image/jpeg","url":"https://media.guim.co.uk/b18b773d6376656c30e44b7cd4e2286794c17a66/0_57_3500_2100/3500.jpg"},{"index":1,"fields":{"isMaster":"true","height":"2100″,"width":"3500″},"mediaType":"Image","mimeType":"image/jpeg","url":"https://media.guim.co.uk/b18b773d6376656c30e44b7cd4e2286794c17a66/0_57_3500_2100/master/3500.jpg"},{"index":2,"fields":{"height":"1200″,"width":"2000″},"mediaType":"Image","mimeType":"image/jpeg","url":"https://media.guim.co.uk/b18b773d6376656c30e44b7cd4e2286794c17a66/0_57_3500_2100/2000.jpg"},{"index":3,"fields":{"height":"600″,"width":"1000″},"mediaType":"Image","mimeType":"image/jpeg","url":"https://media.guim.co.uk/b18b773d6376656c30e44b7cd4e2286794c17a66/0_57_3500_2100/1000.jpg"},{"index":4,"fields":{"height":"300″,"width":"500″},"mediaType":"Image","mimeType":"image/jpeg","url":"https://media.guim.co.uk/b18b773d6376656c30e44b7cd4e2286794c17a66/0_57_3500_2100/500.jpg"},{"index":5,"fields":{"height":"84″,"width":"140″},"mediaType":"Image","mimeType":"image/jpeg","url":"https://media.guim.co.uk/b18b773d6376656c30e44b7cd4e2286794c17a66/0_57_3500_2100/140.jpg"}]},"data":{"alt":"Diogo Dalot feels the challenge from Patrick Kpozo.","caption":"Diogo Dalot feels the challenge from Patrick Kpozo.","credit":"Photograph: Peter Cziborra/Action Images/Reuters"},"displayCredit":true,"role":"inline","imageSources":[{"weighting":"inline","srcSet":[{"src":"https://i.guim.co.uk/img/media/b18b773d6376656c30e44b7cd4e2286794c17a66/0_57_3500_2100/master/3500.jpg?width=620&quality=85&auto=format&fit=max&s=d9c96881fabb037c28f2ca5ca2d406f8″,"width":620},{"src":"https://i.guim.co.uk/img/media/b18b773d6376656c30e44b7cd4e2286794c17a66/0_57_3500_2100/master/3500.jpg?width=620&quality=45&auto=format&fit=max&dpr=2&s=3805c1ccbc99fef1842a82e612f240c3″,"width":1240},{"src":"https://i.guim.co.uk/img/media/b18b773d6376656c30e44b7cd4e2286794c17a66/0_57_3500_2100/master/3500.jpg?width=605&quality=85&auto=format&fit=max&s=5c5217bf02216542757bf3d19ca2495c","width":605},{"src":"https://i.guim.co.uk/img/media/b18b773d6376656c30e44b7cd4e2286794c17a66/0_57_3500_2100/master/3500.jpg?width=605&quality=45&auto=format&fit=max&dpr=2&s=90d5487eb065038bab19dcf8d5e874ab","width":1210},{"src":"https://i.guim.co.uk/img/media/b18b773d6376656c30e44b7cd4e2286794c17a66/0_57_3500_2100/master/3500.jpg?width=445&quality=85&auto=format&fit=max&s=db527f9c1a0d8d65241127b997c9d1e2″,"width":445},{"src":"https://i.guim.co.uk/img/media/b18b773d6376656c30e44b7cd4e2286794c17a66/0_57_3500_2100/master/3500.jpg?width=445&quality=45&auto=format&fit=max&dpr=2&s=d5bd006b742d1a4fa31cba764eb4366a","width":890}]},{"weighting":"thumbnail","srcSet":[{"src":"https://i.guim.co.uk/img/media/b18b773d6376656c30e44b7cd4e2286794c17a66/0_57_3500_2100/master/3500.jpg?width=140&quality=85&auto=format&fit=max&s=5a08b15a72043526ac868b20b44d3f0e","width":140},{"src":"https://i.guim.co.uk/img/media/b18b773d6376656c30e44b7cd4e2286794c17a66/0_57_3500_2100/master/3500.jpg?width=140&quality=45&auto=format&fit=max&dpr=2&s=4a7891683a7f761c7e3020d359c6168f","width":280},{"src":"https://i.guim.co.uk/img/media/b18b773d6376656c30e44b7cd4e2286794c17a66/0_57_3500_2100/master/3500.jpg?width=120&quality=85&auto=format&fit=max&s=4f3eca4d81ef49f0238ed16d471d2abd","width":120},{"src":"https://i.guim.co.uk/img/media/b18b773d6376656c30e44b7cd4e2286794c17a66/0_57_3500_2100/master/3500.jpg?width=120&quality=45&auto=format&fit=max&dpr=2&s=24cff075296f9df4ac1088ab657361d1″,"width":240}]},{"weighting":"supporting","srcSet":[{"src":"https://i.guim.co.uk/img/media/b18b773d6376656c30e44b7cd4e2286794c17a66/0_57_3500_2100/master/3500.jpg?width=380&quality=85&auto=format&fit=max&s=3235a221e817e246025d61494d952cb9″,"width":380},{"src":"https://i.guim.co.uk/img/media/b18b773d6376656c30e44b7cd4e2286794c17a66/0_57_3500_2100/master/3500.jpg?width=380&quality=45&auto=format&fit=max&dpr=2&s=7349ea117b90baa5df15fa7ca149bcd6″,"width":760},{"src":"https://i.guim.co.uk/img/media/b18b773d6376656c30e44b7cd4e2286794c17a66/0_57_3500_2100/master/3500.jpg?width=300&quality=85&auto=format&fit=max&s=a26f89888b2c23770045dd0bb78bdb33″,"width":300},{"src":"https://i.guim.co.uk/img/media/b18b773d6376656c30e44b7cd4e2286794c17a66/0_57_3500_2100/master/3500.jpg?width=300&quality=45&auto=format&fit=max&dpr=2&s=fbbd88346db491aaaed84917037ae65b","width":600},{"src":"https://i.guim.co.uk/img/media/b18b773d6376656c30e44b7cd4e2286794c17a66/0_57_3500_2100/master/3500.jpg?width=620&quality=85&auto=format&fit=max&s=d9c96881fabb037c28f2ca5ca2d406f8″,"width":620},{"src":"https://i.guim.co.uk/img/media/b18b773d6376656c30e44b7cd4e2286794c17a66/0_57_3500_2100/master/3500.jpg?width=620&quality=45&auto=format&fit=max&dpr=2&s=3805c1ccbc99fef1842a82e612f240c3″,"width":1240},{"src":"https://i.guim.co.uk/img/media/b18b773d6376656c30e44b7cd4e2286794c17a66/0_57_3500_2100/master/3500.jpg?width=605&quality=85&auto=format&fit=max&s=5c5217bf02216542757bf3d19ca2495c","width":605},{"src":"https://i.guim.co.uk/img/media/b18b773d6376656c30e44b7cd4e2286794c17a66/0_57_3500_2100/master/3500.jpg?width=605&quality=45&auto=format&fit=max&dpr=2&s=90d5487eb065038bab19dcf8d5e874ab","width":1210},{"src":"https://i.guim.co.uk/img/media/b18b773d6376656c30e44b7cd4e2286794c17a66/0_57_3500_2100/master/3500.jpg?width=445&quality=85&auto=format&fit=max&s=db527f9c1a0d8d65241127b997c9d1e2″,"width":445},{"src":"https://i.guim.co.uk/img/media/b18b773d6376656c30e44b7cd4e2286794c17a66/0_57_3500_2100/master/3500.jpg?width=445&quality=45&auto=format&fit=max&dpr=2&s=d5bd006b742d1a4fa31cba764eb4366a","width":890}]},{"weighting":"showcase","srcSet":[{"src":"https://i.guim.co.uk/img/media/b18b773d6376656c30e44b7cd4e2286794c17a66/0_57_3500_2100/master/3500.jpg?width=860&quality=85&auto=format&fit=max&s=5096f37fd39c344061f1e7b5e6bd08f5″,"width":860},{"src":"https://i.guim.co.uk/img/media/b18b773d6376656c30e44b7cd4e2286794c17a66/0_57_3500_2100/master/3500.jpg?width=860&quality=45&auto=format&fit=max&dpr=2&s=4994bb999322d1eb6abc73703c7d2657″,"width":1720},{"src":"https://i.guim.co.uk/img/media/b18b773d6376656c30e44b7cd4e2286794c17a66/0_57_3500_2100/master/3500.jpg?width=780&quality=85&auto=format&fit=max&s=70018580a85569e589a945ff8b40f232″,"width":780},{"src":"https://i.guim.co.uk/img/media/b18b773d6376656c30e44b7cd4e2286794c17a66/0_57_3500_2100/master/3500.jpg?width=780&quality=45&auto=format&fit=max&dpr=2&s=f914730683569d4b1446951b267102ef","width":1560},{"src":"https://i.guim.co.uk/img/media/b18b773d6376656c30e44b7cd4e2286794c17a66/0_57_3500_2100/master/3500.jpg?width=620&quality=85&auto=format&fit=max&s=d9c96881fabb037c28f2ca5ca2d406f8″,"width":620},{"src":"https://i.guim.co.uk/img/media/b18b773d6376656c30e44b7cd4e2286794c17a66/0_57_3500_2100/master/3500.jpg?width=620&quality=45&auto=format&fit=max&dpr=2&s=3805c1ccbc99fef1842a82e612f240c3″,"width":1240},{"src":"https://i.guim.co.uk/img/media/b18b773d6376656c30e44b7cd4e2286794c17a66/0_57_3500_2100/master/3500.jpg?width=605&quality=85&auto=format&fit=max&s=5c5217bf02216542757bf3d19ca2495c","width":605},{"src":"https://i.guim.co.uk/img/media/b18b773d6376656c30e44b7cd4e2286794c17a66/0_57_3500_2100/master/3500.jpg?width=605&quality=45&auto=format&fit=max&dpr=2&s=90d5487eb065038bab19dcf8d5e874ab","width":1210},{"src":"https://i.guim.co.uk/img/media/b18b773d6376656c30e44b7cd4e2286794c17a66/0_57_3500_2100/master/3500.jpg?width=445&quality=85&auto=format&fit=max&s=db527f9c1a0d8d65241127b997c9d1e2″,"width":445},{"src":"https://i.guim.co.uk/img/media/b18b773d6376656c30e44b7cd4e2286794c17a66/0_57_3500_2100/master/3500.jpg?width=445&quality=45&auto=format&fit=max&dpr=2&s=d5bd006b742d1a4fa31cba764eb4366a","width":890}]},{"weighting":"halfwidth","srcSet":[{"src":"https://i.guim.co.uk/img/media/b18b773d6376656c30e44b7cd4e2286794c17a66/0_57_3500_2100/master/3500.jpg?width=620&quality=85&auto=format&fit=max&s=d9c96881fabb037c28f2ca5ca2d406f8″,"width":620},{"src":"https://i.guim.co.uk/img/media/b18b773d6376656c30e44b7cd4e2286794c17a66/0_57_3500_2100/master/3500.jpg?width=620&quality=45&auto=format&fit=max&dpr=2&s=3805c1ccbc99fef1842a82e612f240c3″,"width":1240},{"src":"https://i.guim.co.uk/img/media/b18b773d6376656c30e44b7cd4e2286794c17a66/0_57_3500_2100/master/3500.jpg?width=605&quality=85&auto=format&fit=max&s=5c5217bf02216542757bf3d19ca2495c","width":605},{"src":"https://i.guim.co.uk/img/media/b18b773d6376656c30e44b7cd4e2286794c17a66/0_57_3500_2100/master/3500.jpg?width=605&quality=45&auto=format&fit=max&dpr=2&s=90d5487eb065038bab19dcf8d5e874ab","width":1210},{"src":"https://i.guim.co.uk/img/media/b18b773d6376656c30e44b7cd4e2286794c17a66/0_57_3500_2100/master/3500.jpg?width=445&quality=85&auto=format&fit=max&s=db527f9c1a0d8d65241127b997c9d1e2″,"width":445},{"src":"https://i.guim.co.uk/img/media/b18b773d6376656c30e44b7cd4e2286794c17a66/0_57_3500_2100/master/3500.jpg?width=445&quality=45&auto=format&fit=max&dpr=2&s=d5bd006b742d1a4fa31cba764eb4366a","width":890}]},{"weighting":"immersive","srcSet":[{"src":"https://i.guim.co.uk/img/media/b18b773d6376656c30e44b7cd4e2286794c17a66/0_57_3500_2100/master/3500.jpg?width=1900&quality=85&auto=format&fit=max&s=9b2e5fca307fc562d83f4e631f5fd066″,"width":1900},{"src":"https://i.guim.co.uk/img/media/b18b773d6376656c30e44b7cd4e2286794c17a66/0_57_3500_2100/master/3500.jpg?width=1900&quality=45&auto=format&fit=max&dpr=2&s=bd8191974dc0d2f612751d6c189ca11a","width":3800},{"src":"https://i.guim.co.uk/img/media/b18b773d6376656c30e44b7cd4e2286794c17a66/0_57_3500_2100/master/3500.jpg?width=1300&quality=85&auto=format&fit=max&s=fcd729236c4aec047018eaf7139cc744″,"width":1300},{"src":"https://i.guim.co.uk/img/media/b18b773d6376656c30e44b7cd4e2286794c17a66/0_57_3500_2100/master/3500.jpg?width=1300&quality=45&auto=format&fit=max&dpr=2&s=29508d0b3352a82966a6f52d7311f3d1″,"width":2600},{"src":"https://i.guim.co.uk/img/media/b18b773d6376656c30e44b7cd4e2286794c17a66/0_57_3500_2100/master/3500.jpg?width=1140&quality=85&auto=format&fit=max&s=ae501dd595a62f2602509e14377703b4″,"width":1140},{"src":"https://i.guim.co.uk/img/media/b18b773d6376656c30e44b7cd4e2286794c17a66/0_57_3500_2100/master/3500.jpg?width=1140&quality=45&auto=format&fit=max&dpr=2&s=d95825e8e41e64bd763280cc789796b0″,"width":2280},{"src":"https://i.guim.co.uk/img/media/b18b773d6376656c30e44b7cd4e2286794c17a66/0_57_3500_2100/master/3500.jpg?width=980&quality=85&auto=format&fit=max&s=550cb53865e37446b6fd12639be2c137″,"width":980},{"src":"https://i.guim.co.uk/img/media/b18b773d6376656c30e44b7cd4e2286794c17a66/0_57_3500_2100/master/3500.jpg?width=980&quality=45&auto=format&fit=max&dpr=2&s=a7c0f67bd21b4decafc928baadc95b50″,"width":1960},{"src":"https://i.guim.co.uk/img/media/b18b773d6376656c30e44b7cd4e2286794c17a66/0_57_3500_2100/master/3500.jpg?width=740&quality=85&auto=format&fit=max&s=84cee733b90d43a55a466d8dcf85df42″,"width":740},{"src":"https://i.guim.co.uk/img/media/b18b773d6376656c30e44b7cd4e2286794c17a66/0_57_3500_2100/master/3500.jpg?width=740&quality=45&auto=format&fit=max&dpr=2&s=197fedb16508b8e0c0f0ff1d5075e952″,"width":1480},{"src":"https://i.guim.co.uk/img/media/b18b773d6376656c30e44b7cd4e2286794c17a66/0_57_3500_2100/master/3500.jpg?width=660&quality=85&auto=format&fit=max&s=9d9ed09d17c14cbdf6c1c4f23ea6e8b1″,"width":660},{"src":"https://i.guim.co.uk/img/media/b18b773d6376656c30e44b7cd4e2286794c17a66/0_57_3500_2100/master/3500.jpg?width=660&quality=45&auto=format&fit=max&dpr=2&s=2cf671add3ab80c535a83b858f40fe40″,"width":1320},{"src":"https://i.guim.co.uk/img/media/b18b773d6376656c30e44b7cd4e2286794c17a66/0_57_3500_2100/master/3500.jpg?width=480&quality=85&auto=format&fit=max&s=ed96980563340c8ade645a48fe178674″,"width":480},{"src":"https://i.guim.co.uk/img/media/b18b773d6376656c30e44b7cd4e2286794c17a66/0_57_3500_2100/master/3500.jpg?width=480&quality=45&auto=format&fit=max&dpr=2&s=5f90330abc34add4f685c8f23f92a67c","width":960}]}],"elementId":"052f3852-318c-4f16-ae2b-3ff0555f8d27″}],"attributes":{"pinned":false,"keyEvent":true,"summary":false},"blockCreatedOn":1663262584000,"blockCreatedOnDisplay":"13.23 EDT","blockLastUpdated":1663262998000,"blockLastUpdatedDisplay":"13.29 EDT","blockFirstPublished":1663262640000,"blockFirstPublishedDisplay":"13.24 EDT","blockFirstPublishedDisplayNoTimezone":"13.24″,"title":"Penalty for United!","contributors":[],"primaryDateLine":"Thu 15 Sep 2022 14.34 EDT","secondaryDateLine":"First published on Thu 15 Sep 2022 11.45 EDT"},{"id":"63235a998f0836766296ccb1″,"elements":[{"_type":"model.dotcomrendering.pageElements.TextBlockElement","html":"

United come again, and take the lead with a lovely goal. Eriksen takes a step down the middle, surveys the terrain, then rolls a pass into the Sheriff box for Sancho, who shifts the ball to his left, then swivels and sweeps a precise shot into the bottom right. That's such an assured finish.

","elementId":"889378dd-eb79-429f-aa64-332e669510b8″},{"_type":"model.dotcomrendering.pageElements.ImageBlockElement","media":{"allImages":[{"index":0,"fields":{"height":"2056″,"width":"3500″},"mediaType":"Image","mimeType":"image/jpeg","url":"https://media.guim.co.uk/612e72076016f9548271e3c48e08ea2edb9824fc/0_0_3500_2056/3500.jpg"},{"index":1,"fields":{"isMaster":"true","height":"2056″,"width":"3500″},"mediaType":"Image","mimeType":"image/jpeg","url":"https://media.guim.co.uk/612e72076016f9548271e3c48e08ea2edb9824fc/0_0_3500_2056/master/3500.jpg"},{"index":2,"fields":{"height":"1175″,"width":"2000″},"mediaType":"Image","mimeType":"image/jpeg","url":"https://media.guim.co.uk/612e72076016f9548271e3c48e08ea2edb9824fc/0_0_3500_2056/2000.jpg"},{"index":3,"fields":{"height":"587″,"width":"1000″},"mediaType":"Image","mimeType":"image/jpeg","url":"https://media.guim.co.uk/612e72076016f9548271e3c48e08ea2edb9824fc/0_0_3500_2056/1000.jpg"},{"index":4,"fields":{"height":"294″,"width":"500″},"mediaType":"Image","mimeType":"image/jpeg","url":"https://media.guim.co.uk/612e72076016f9548271e3c48e08ea2edb9824fc/0_0_3500_2056/500.jpg"},{"index":5,"fields":{"height":"82″,"width":"140″},"mediaType":"Image","mimeType":"image/jpeg","url":"https://media.guim.co.uk/612e72076016f9548271e3c48e08ea2edb9824fc/0_0_3500_2056/140.jpg"}]},"data":{"alt":"Jadon Sancho pounces to give Manchester United the lead.","caption":"Jadon Sancho pounces to give Manchester United the lead.","credit":"Photograph: Peter Cziborra/Action Images/Reuters"},"displayCredit":true,"role":"inline","imageSources":[{"weighting":"inline","srcSet":[{"src":"https://i.guim.co.uk/img/media/612e72076016f9548271e3c48e08ea2edb9824fc/0_0_3500_2056/master/3500.jpg?width=620&quality=85&auto=format&fit=max&s=6fae7d8a10948698e5f9266ac650ec62″,"width":620},{"src":"https://i.guim.co.uk/img/media/612e72076016f9548271e3c48e08ea2edb9824fc/0_0_3500_2056/master/3500.jpg?width=620&quality=45&auto=format&fit=max&dpr=2&s=adca6fe727d7571f908c73c52b5ed95d","width":1240},{"src":"https://i.guim.co.uk/img/media/612e72076016f9548271e3c48e08ea2edb9824fc/0_0_3500_2056/master/3500.jpg?width=605&quality=85&auto=format&fit=max&s=33a5f652675cd5546f358e199aa35210″,"width":605},{"src":"https://i.guim.co.uk/img/media/612e72076016f9548271e3c48e08ea2edb9824fc/0_0_3500_2056/master/3500.jpg?width=605&quality=45&auto=format&fit=max&dpr=2&s=ceaa9db5e808b8c9fa780ad40a999135″,"width":1210},{"src":"https://i.guim.co.uk/img/media/612e72076016f9548271e3c48e08ea2edb9824fc/0_0_3500_2056/master/3500.jpg?width=445&quality=85&auto=format&fit=max&s=33d7d1af51fc5a608623a0ed5c9e91d2″,"width":445},{"src":"https://i.guim.co.uk/img/media/612e72076016f9548271e3c48e08ea2edb9824fc/0_0_3500_2056/master/3500.jpg?width=445&quality=45&auto=format&fit=max&dpr=2&s=df2b0098297c712babf259981aae586d","width":890}]},{"weighting":"thumbnail","srcSet":[{"src":"https://i.guim.co.uk/img/media/612e72076016f9548271e3c48e08ea2edb9824fc/0_0_3500_2056/master/3500.jpg?width=140&quality=85&auto=format&fit=max&s=a7dd8e9d607254f818b4ae9f88dd8307″,"width":140},{"src":"https://i.guim.co.uk/img/media/612e72076016f9548271e3c48e08ea2edb9824fc/0_0_3500_2056/master/3500.jpg?width=140&quality=45&auto=format&fit=max&dpr=2&s=11e245ba50814349fea5a2eeb6411c9f","width":280},{"src":"https://i.guim.co.uk/img/media/612e72076016f9548271e3c48e08ea2edb9824fc/0_0_3500_2056/master/3500.jpg?width=120&quality=85&auto=format&fit=max&s=f04d961bafd6ace9d6c5b8157c0537e4″,"width":120},{"src":"https://i.guim.co.uk/img/media/612e72076016f9548271e3c48e08ea2edb9824fc/0_0_3500_2056/master/3500.jpg?width=120&quality=45&auto=format&fit=max&dpr=2&s=0c85b5df24574c30557b98e32251e820″,"width":240}]},{"weighting":"supporting","srcSet":[{"src":"https://i.guim.co.uk/img/media/612e72076016f9548271e3c48e08ea2edb9824fc/0_0_3500_2056/master/3500.jpg?width=380&quality=85&auto=format&fit=max&s=c97c070a8d93cb6e6f6ce378fdf18472″,"width":380},{"src":"https://i.guim.co.uk/img/media/612e72076016f9548271e3c48e08ea2edb9824fc/0_0_3500_2056/master/3500.jpg?width=380&quality=45&auto=format&fit=max&dpr=2&s=528771b8665b407819a56b4c9e9c1fbb","width":760},{"src":"https://i.guim.co.uk/img/media/612e72076016f9548271e3c48e08ea2edb9824fc/0_0_3500_2056/master/3500.jpg?width=300&quality=85&auto=format&fit=max&s=c3250a2a31e54cf02463beda6f31efec","width":300},{"src":"https://i.guim.co.uk/img/media/612e72076016f9548271e3c48e08ea2edb9824fc/0_0_3500_2056/master/3500.jpg?width=300&quality=45&auto=format&fit=max&dpr=2&s=2e2dffa167bd7c33a561248ae529d203″,"width":600},{"src":"https://i.guim.co.uk/img/media/612e72076016f9548271e3c48e08ea2edb9824fc/0_0_3500_2056/master/3500.jpg?width=620&quality=85&auto=format&fit=max&s=6fae7d8a10948698e5f9266ac650ec62″,"width":620},{"src":"https://i.guim.co.uk/img/media/612e72076016f9548271e3c48e08ea2edb9824fc/0_0_3500_2056/master/3500.jpg?width=620&quality=45&auto=format&fit=max&dpr=2&s=adca6fe727d7571f908c73c52b5ed95d","width":1240},{"src":"https://i.guim.co.uk/img/media/612e72076016f9548271e3c48e08ea2edb9824fc/0_0_3500_2056/master/3500.jpg?width=605&quality=85&auto=format&fit=max&s=33a5f652675cd5546f358e199aa35210″,"width":605},{"src":"https://i.guim.co.uk/img/media/612e72076016f9548271e3c48e08ea2edb9824fc/0_0_3500_2056/master/3500.jpg?width=605&quality=45&auto=format&fit=max&dpr=2&s=ceaa9db5e808b8c9fa780ad40a999135″,"width":1210},{"src":"https://i.guim.co.uk/img/media/612e72076016f9548271e3c48e08ea2edb9824fc/0_0_3500_2056/master/3500.jpg?width=445&quality=85&auto=format&fit=max&s=33d7d1af51fc5a608623a0ed5c9e91d2″,"width":445},{"src":"https://i.guim.co.uk/img/media/612e72076016f9548271e3c48e08ea2edb9824fc/0_0_3500_2056/master/3500.jpg?width=445&quality=45&auto=format&fit=max&dpr=2&s=df2b0098297c712babf259981aae586d","width":890}]},{"weighting":"showcase","srcSet":[{"src":"https://i.guim.co.uk/img/media/612e72076016f9548271e3c48e08ea2edb9824fc/0_0_3500_2056/master/3500.jpg?width=860&quality=85&auto=format&fit=max&s=4895afa95e4f1b1aa931adbb8a808ea6″,"width":860},{"src":"https://i.guim.co.uk/img/media/612e72076016f9548271e3c48e08ea2edb9824fc/0_0_3500_2056/master/3500.jpg?width=860&quality=45&auto=format&fit=max&dpr=2&s=fc70a2c6eb3db284cb3539f224e98a8f","width":1720},{"src":"https://i.guim.co.uk/img/media/612e72076016f9548271e3c48e08ea2edb9824fc/0_0_3500_2056/master/3500.jpg?width=780&quality=85&auto=format&fit=max&s=02317bf7734d1c76b7f1cdd35bd5442c","width":780},{"src":"https://i.guim.co.uk/img/media/612e72076016f9548271e3c48e08ea2edb9824fc/0_0_3500_2056/master/3500.jpg?width=780&quality=45&auto=format&fit=max&dpr=2&s=2f537a5c697afbf7b38281636232e48e","width":1560},{"src":"https://i.guim.co.uk/img/media/612e72076016f9548271e3c48e08ea2edb9824fc/0_0_3500_2056/master/3500.jpg?width=620&quality=85&auto=format&fit=max&s=6fae7d8a10948698e5f9266ac650ec62″,"width":620},{"src":"https://i.guim.co.uk/img/media/612e72076016f9548271e3c48e08ea2edb9824fc/0_0_3500_2056/master/3500.jpg?width=620&quality=45&auto=format&fit=max&dpr=2&s=adca6fe727d7571f908c73c52b5ed95d","width":1240},{"src":"https://i.guim.co.uk/img/media/612e72076016f9548271e3c48e08ea2edb9824fc/0_0_3500_2056/master/3500.jpg?width=605&quality=85&auto=format&fit=max&s=33a5f652675cd5546f358e199aa35210″,"width":605},{"src":"https://i.guim.co.uk/img/media/612e72076016f9548271e3c48e08ea2edb9824fc/0_0_3500_2056/master/3500.jpg?width=605&quality=45&auto=format&fit=max&dpr=2&s=ceaa9db5e808b8c9fa780ad40a999135″,"width":1210},{"src":"https://i.guim.co.uk/img/media/612e72076016f9548271e3c48e08ea2edb9824fc/0_0_3500_2056/master/3500.jpg?width=445&quality=85&auto=format&fit=max&s=33d7d1af51fc5a608623a0ed5c9e91d2″,"width":445},{"src":"https://i.guim.co.uk/img/media/612e72076016f9548271e3c48e08ea2edb9824fc/0_0_3500_2056/master/3500.jpg?width=445&quality=45&auto=format&fit=max&dpr=2&s=df2b0098297c712babf259981aae586d","width":890}]},{"weighting":"halfwidth","srcSet":[{"src":"https://i.guim.co.uk/img/media/612e72076016f9548271e3c48e08ea2edb9824fc/0_0_3500_2056/master/3500.jpg?width=620&quality=85&auto=format&fit=max&s=6fae7d8a10948698e5f9266ac650ec62″,"width":620},{"src":"https://i.guim.co.uk/img/media/612e72076016f9548271e3c48e08ea2edb9824fc/0_0_3500_2056/master/3500.jpg?width=620&quality=45&auto=format&fit=max&dpr=2&s=adca6fe727d7571f908c73c52b5ed95d","width":1240},{"src":"https://i.guim.co.uk/img/media/612e72076016f9548271e3c48e08ea2edb9824fc/0_0_3500_2056/master/3500.jpg?width=605&quality=85&auto=format&fit=max&s=33a5f652675cd5546f358e199aa35210″,"width":605},{"src":"https://i.guim.co.uk/img/media/612e72076016f9548271e3c48e08ea2edb9824fc/0_0_3500_2056/master/3500.jpg?width=605&quality=45&auto=format&fit=max&dpr=2&s=ceaa9db5e808b8c9fa780ad40a999135″,"width":1210},{"src":"https://i.guim.co.uk/img/media/612e72076016f9548271e3c48e08ea2edb9824fc/0_0_3500_2056/master/3500.jpg?width=445&quality=85&auto=format&fit=max&s=33d7d1af51fc5a608623a0ed5c9e91d2″,"width":445},{"src":"https://i.guim.co.uk/img/media/612e72076016f9548271e3c48e08ea2edb9824fc/0_0_3500_2056/master/3500.jpg?width=445&quality=45&auto=format&fit=max&dpr=2&s=df2b0098297c712babf259981aae586d","width":890}]},{"weighting":"immersive","srcSet":[{"src":"https://i.guim.co.uk/img/media/612e72076016f9548271e3c48e08ea2edb9824fc/0_0_3500_2056/master/3500.jpg?width=1900&quality=85&auto=format&fit=max&s=a29e647fbe10f8c6ba0902ad3980fc2a","width":1900},{"src":"https://i.guim.co.uk/img/media/612e72076016f9548271e3c48e08ea2edb9824fc/0_0_3500_2056/master/3500.jpg?width=1900&quality=45&auto=format&fit=max&dpr=2&s=7278a18837f2f55847266644cb97c0a0″,"width":3800},{"src":"https://i.guim.co.uk/img/media/612e72076016f9548271e3c48e08ea2edb9824fc/0_0_3500_2056/master/3500.jpg?width=1300&quality=85&auto=format&fit=max&s=64803ad0e8892b71da49ed0f356e9094″,"width":1300},{"src":"https://i.guim.co.uk/img/media/612e72076016f9548271e3c48e08ea2edb9824fc/0_0_3500_2056/master/3500.jpg?width=1300&quality=45&auto=format&fit=max&dpr=2&s=ac010cf218fcc61830e50fe398a8af28″,"width":2600},{"src":"https://i.guim.co.uk/img/media/612e72076016f9548271e3c48e08ea2edb9824fc/0_0_3500_2056/master/3500.jpg?width=1140&quality=85&auto=format&fit=max&s=2770a7cc96a1107d548058e7b465847c","width":1140},{"src":"https://i.guim.co.uk/img/media/612e72076016f9548271e3c48e08ea2edb9824fc/0_0_3500_2056/master/3500.jpg?width=1140&quality=45&auto=format&fit=max&dpr=2&s=058515502302ccdfcfbb9174425ef4c5″,"width":2280},{"src":"https://i.guim.co.uk/img/media/612e72076016f9548271e3c48e08ea2edb9824fc/0_0_3500_2056/master/3500.jpg?width=980&quality=85&auto=format&fit=max&s=0fc33cde2a6dcda6302fdeff55abbb6b","width":980},{"src":"https://i.guim.co.uk/img/media/612e72076016f9548271e3c48e08ea2edb9824fc/0_0_3500_2056/master/3500.jpg?width=980&quality=45&auto=format&fit=max&dpr=2&s=bdae17d7595d1d1203d80bbdf5d9a446″,"width":1960},{"src":"https://i.guim.co.uk/img/media/612e72076016f9548271e3c48e08ea2edb9824fc/0_0_3500_2056/master/3500.jpg?width=740&quality=85&auto=format&fit=max&s=403f4088a13b1c52e18a09c886de8f8b","width":740},{"src":"https://i.guim.co.uk/img/media/612e72076016f9548271e3c48e08ea2edb9824fc/0_0_3500_2056/master/3500.jpg?width=740&quality=45&auto=format&fit=max&dpr=2&s=a672e9c8dc701453e34b2280102cdad2″,"width":1480},{"src":"https://i.guim.co.uk/img/media/612e72076016f9548271e3c48e08ea2edb9824fc/0_0_3500_2056/master/3500.jpg?width=660&quality=85&auto=format&fit=max&s=9a8ecb7b1e1724d92486861fbeaf676c","width":660},{"src":"https://i.guim.co.uk/img/media/612e72076016f9548271e3c48e08ea2edb9824fc/0_0_3500_2056/master/3500.jpg?width=660&quality=45&auto=format&fit=max&dpr=2&s=da1ec493f4381447570db5a6786b2c48″,"width":1320},{"src":"https://i.guim.co.uk/img/media/612e72076016f9548271e3c48e08ea2edb9824fc/0_0_3500_2056/master/3500.jpg?width=480&quality=85&auto=format&fit=max&s=9e5523b48b4197816931321bf60d30b4″,"width":480},{"src":"https://i.guim.co.uk/img/media/612e72076016f9548271e3c48e08ea2edb9824fc/0_0_3500_2056/master/3500.jpg?width=480&quality=45&auto=format&fit=max&dpr=2&s=afbd0fef21f898de492119ac263f1942″,"width":960}]}],"elementId":"c2d5c4f6-e65a-4e3b-bdb7-3bb004e77a97″}],"attributes":{"pinned":false,"keyEvent":true,"summary":false},"blockCreatedOn":1663261337000,"blockCreatedOnDisplay":"13.02 EDT","blockLastUpdated":1663261813000,"blockLastUpdatedDisplay":"13.10 EDT","blockFirstPublished":1663261425000,"blockFirstPublishedDisplay":"13.03 EDT","blockFirstPublishedDisplayNoTimezone":"13.03″,"title":"GOAL! Sheriff 0-1 Manchester United (Sancho 17)","contributors":[],"primaryDateLine":"Thu 15 Sep 2022 14.34 EDT","secondaryDateLine":"First published on Thu 15 Sep 2022 11.45 EDT"},{"id":"632348a38f083f878e70e0ed","elements":[{"_type":"model.dotcomrendering.pageElements.TextBlockElement","html":"

Sheriff: Koval, Zohouri, Gabi, Radeljic, Kpozo, Badolo, Kyabou, Diop, Rasheed, Atiemwen, Ouattara.
Subs: Celeadnic, Heron, Felipe Vizeu, Darankoum, Salifu, Pernambuco, Pascenco, Guedes.

","elementId":"3c3adf4b-7dbc-4ddc-a980-596ce9a17d41″},{"_type":"model.dotcomrendering.pageElements.TextBlockElement","html":"

Manchester United: de Gea, Dalot, Varane, Martinez, Malacia, McTominay, Eriksen, Antony, Bruno Fernandes, Sancho, Ronaldo.
Subs: Lindelof, Maguire, Fred, Casemiro, Heaton, Shaw, Elanga, Garnacho, Iqbal, McNeill, Vitek.

","elementId":"fbc6d310-38e5-4ff8-bb0b-318da544054f"},{"_type":"model.dotcomrendering.pageElements.TextBlockElement","html":"

Referee: Pawel Raczkowski (Poland).

","elementId":"263d8bed-353d-49b5-8b8f-151e0d5780bd"}],"attributes":{"pinned":false,"keyEvent":true,"summary":false},"blockCreatedOn":1663256739000,"blockCreatedOnDisplay":"11.45 EDT","blockLastUpdated":1663256839000,"blockLastUpdatedDisplay":"11.47 EDT","blockFirstPublished":1663256839000,"blockFirstPublishedDisplay":"11.47 EDT","blockFirstPublishedDisplayNoTimezone":"11.47″,"title":"The teams","contributors":[],"primaryDateLine":"Thu 15 Sep 2022 14.34 EDT","secondaryDateLine":"First published on Thu 15 Sep 2022 11.45 EDT"},{"id":"6322e5a98f0894b39b47f659″,"elements":[{"_type":"model.dotcomrendering.pageElements.TextBlockElement","html":"

"When you lose the first game, you have to win the second, so we know what our task is." Erik ten Hag, ladies and gentlemen, distilling this match into pure dramatic tincture. Sip up! Kick off is at 5.45pm BST. It's on!

","elementId":"b1f0a1ee-cb29-4021-9f6b-0418f03c21e3″}],"attributes":{"pinned":false,"keyEvent":true,"summary":false},"blockCreatedOn":1663256701000,"blockCreatedOnDisplay":"11.45 EDT","blockLastUpdated":1663249323000,"blockLastUpdatedDisplay":"09.42 EDT","blockFirstPublished":1663256701000,"blockFirstPublishedDisplay":"11.45 EDT","blockFirstPublishedDisplayNoTimezone":"11.45″,"title":"Preamble","contributors":[],"primaryDateLine":"Thu 15 Sep 2022 14.34 EDT","secondaryDateLine":"First published on Thu 15 Sep 2022 11.45 EDT"}],"filterKeyEvents":false,"format":{"display":0,"theme":2,"design":10},"id":"key-events-carousel-mobile"}">

main events
Full time: Sharif 0-2 Manchester United
Manchester United got the job done, and they're back in the mix in Group E!
90 minutes: Maguire and Garnacho replace Martinez and Anthony. There will be two extra minutes.
88 minutes: Pernambuco shot the ball under the jump wall, but directly into De Gea's arms. This was very strange, given that Sancho was lying on the ground behind him making a draft take out tool. this is magic!
87 minutes: …Having said that Casemiro comes across Radlic's back, right to United D's right, and that's a free kick in a very dangerous position.
86 minutes: United have become a bit disjointed since they made their substitutions. Sherif It doesn't seem to benefit, though.
84 minutes: Elanga's first job is to dribble in Sherif Square from the left and falls to the corner of a six-yard square. He gets up, ready to go again, but the referee goes off to touch the ball and he falls.
82 minutes: Both teams make a change. Ronaldo gives way to Ilanga, while Mudasero replaces Etimoine.
81 minutes: Badolo does some ground down the left and stands one for Vizeu…but the cross is too high. An inch from the head that would have made the shutdown stages suddenly very interesting.
79 minutes: United is running the clock.
77 minutes: On the contrary, Sherif They did nothing in this second half. Big drop after a decent opening 45.
75 minutes: Badulu drops his shoulder to create a space 25 yards from the goal. He sends a shot straight up De Gea's throat. This is their first attempt on target.
74 minutes: Sherif Make a double change. Rachid Ouattara gives way to Pernambuco and Vizio.
72 minutes: United are playing a bit of ball conservation.
70 minutes: United make their second change in the evening. Shaw comes in instead of Dalot, and takes his usual position at left-back. Malacia moves across to patrol the other wing.
69 minutes: Sancho and Malacia gather loosely below the left inner channel. Malacia pulls back to Ronaldo, who opens his body and tries to direct his side foot to the top right. Wide. high. "Obviously Etimoine's middle name is honesty," Peter Oh wrote. "It's his moment of nominal determinism."
67 minutes: To be honest, this is not an event now. Not that United will care. They get European League The campaign is back on track without much fanfare or drama, and Casemiro is getting himself back up to speed.
65 minutes: Fernandes slips a ball to the left in favor of Malacia, who won another corner for Manchester United. Eriksen takes on this aspect as well. Sherif Obvious, but United come on again, Anthony sounding right. He plays the ball forward, no one in particular. goal kick. Anthony was very quiet tonight.
63 minutes: Atiemwen was booked for a clip on Malacia's heel. This wasn't the worst challenge, and Sherif The forward is entitled to feel a little hard work.
62 minutes: Fernandes earns a corner kick down the right. Ericsen takes. Radeljic's heads are clear. The Sherif The captain will lay a shift tonight.
60 minutes: Rasheed grabs Malacia's slow header toward his own box, and attempts to lift De Gea from 30 yards away. He always effortlessly sails over the bar, but the bouncer has it covered anyway.
58 minutes: That was one ball of Eriksen's hell, with a match clearance. Radlic single-handedly stopped United from turning this into a defeat, with his goal-line liquidation earlier and now this interfering to deny Ronaldo a particular goal. By the way, nothing came of the resulting corner.
56 minutes: Eriksen whistles a great ball along the corridor of uncertainty, from left to right through Sherif Six yards square. Ronaldo waits to reach the far post, only to be rejected by the telescopic leg of Radlic, who hooks clear in the last nanosecond. What a defense!
54 minutes: United are in complete control, and there is nothing going on.
52 minutes: United takes the rest of the game with some patience passing in midfield.
50 minutes: Fernandez flips and turns, spins and shines down the right inner canal. He almost broke inside the box, but, presumably feeling dizzy, falls down instead.
49 minutes: Ouattara wanders down the right and looks for Atiemwen in the middle. Very close to de Gea which collects. Basketball rhythm at the beginning of the second half.
48 minutes: Dalot retreats from an advanced position on the right. Fernandez arrives late and leaps to the bottom right. Koval's kicks are clear.
46 minutes: Ronaldo shot after a long ball down the middle. It almost came to an end, but Koval claims. Sherif Go up at the other end. Diop should find Rachid clear on the penalty kick, United's defense all around, but he misses a simple pass and misses the opportunity.
Sharif starts the second half. Casemiro replaced McTominay.
Half time advertisement. Open an account now! Open an account now! open an account now? Open an account now!
Half time: Sharif 0-2 Manchester United
There was only enough time left for Malacia to block Diop's shot, and this is the end of the first half. No time added. Sherif He asked a few questions, but United carried a bigger threat up front and would be very happy with their work so far.
44 minutes: Eriksen makes some difference too, mind, dictates from the middle of the field. Here Dalot slides into space below the right inner channel. Dalot moves him forward and almost fires Fernandes into the zone. Koval does enough to release the ball for a goal kick.
42 minutes: Rasheed fights with Malacia to win a corner kick for Sherif bottom right. He takes Badulu, but he can't beat the first guy. Clearance drops to Ouattara, which takes in fresh air. Sheriff gave their best for most of this match, but United have more precise tools up front, and that was the difference.
40 minutes: penny ideas Sherif Captain Radelic, who was seconds before the penalty kick, made a sensational shot just off the line to keep the score 0-1.
Goal! Sharif 0-2 Manchester United (Ronaldo 39 penalty kicks)
Ronaldo gives his eyes to Koval, sends the goalkeeper to his right and hits the ball in the middle. This is his first goal this season!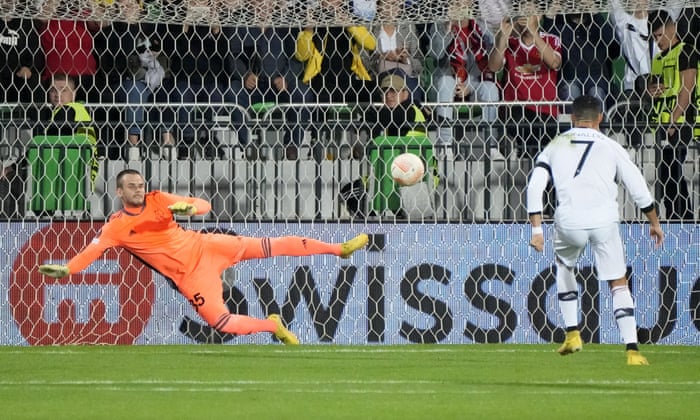 Penalty kick for Manchester United!
38 minutes: Anthony rolls down the right for Dalot, who rushes into the penalty area after the ball. Before he could get there, Kpozo sliced ​​him in the back. Penalty! Kpozo goes to the book because of his panicked rush.