Shamrock Rovers gave Derry City a little hope at the top of the SSE Airtricity League table after a goalless nap in Drumcondra.
This was a terrible football match that may ultimately not mean anything to come at the end of the season, and Rovers are still in a relative leadership position at the top of the standings, but it has been a grim week for the champions no matter what happens.
They followed up the 3-0 loss in Gent a week ago with an FA Cup overtime defeat in Derry, and they returned to their hometown four days later, this was not an improvement, with key players looking tired, unfit or a combination of the two.
In defense of Rovers, they usually get the job done in the title race these days, but that performance should worry Stephen Bradley, as the standout performer appears to have lost the ability to pass the ball – that is, if they control it properly in first place at Tulka Stadium which didn't help in matters.
Warm squabbles between home coach Damien Duff and Shamrock Rovers' management team before the game stymied Duff's playing and training days at Tallaght and Rodston, but, as he'll remind you, he's all about Shelburne now.
Shiels have had a solid season – not in danger of regressing but just shy of finishing in the top four – and much will depend on whether they can reach the FA Cup final at Waterford's expense next month. Either way, Duff has a lot to work on and there is a great vibe to Tulca these days.
However, this rare Thursday night match started without the intensity one would expect from a Dublin derby. Rovers have so many games these days that few of their fans went to Derry for the FA Cup quarter-final on Sunday; For Shiels, this was something of a dead rubber beyond the significance of history and proximity.
Sure enough, Sean Boyd was ready for battle against his former employers, as he chased after Alan Manos and gasped from the home crowd in seven minutes.
Rovers were generally poor in Derry and this was even worse. They were oddly sloppy in possession, losing the ball under little pressure over and over again; Shiel could sense that they were in for an opportunity. The ball was laid out in a court that, even in late September, seemed to need a trim — like 90 minutes of play if you were neutral.
The clock struck 25 minutes and nothing happened. Ronan Finn looked up at a broad head; It felt more like a pre-season game.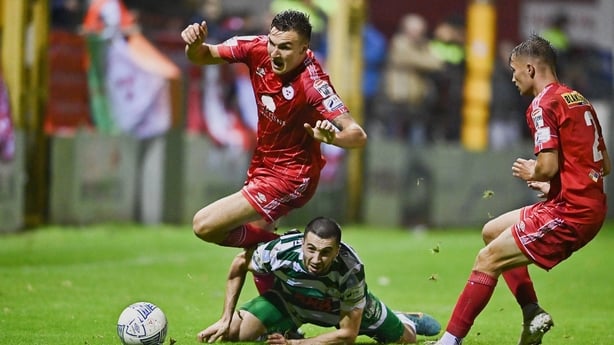 The highlight of the first half was the feud between Graham Burke, who had just been booked for a ridiculous challenge on Matty Smith over the dugout area, and his former teammate Joey O'Brien, now Shells' assistant.
After responding to O'Brien's apparent sarcasm, Burke issued an expletive or otherwise and shouted at O'Brien, "You'll do it yourself!"
The exchange was easy to hear, befitting the general lethargy of a less than perfect Tolka, which itself appeared on the field. Then the match was temporarily postponed by match officials, with one of them claiming that a missile was aimed at him. Will it provoke a drug confrontation?
Jack Byrne was calm but almost put Rory Gaffney in place before the break, and Shane Griffin stepped in. Neil Farrugia, unknown despite his good talking form, gave way to Chris McCann in the first half.
Byrne's pass continued to let him down, with incredible consistency given his talent, as Rovers applied more pressure early in the second half – punctuated by home fans storming an "unfair" Lily Allen bar from time to time, perhaps in honor of substandard fare.
Matty Smith headed in 57 minutes. If it's even a chance, it was the home team's first night.
Seventy minutes later, something finally happened. Dan Cleary, as if trying to show creative rovers what they can do, shook the crossbar from 35 yards.
Cleary, the credit holder in the bank, tried the same trick as bleed the game to the end but the ball was last seen somewhere near Ballybug.
If the match deserved a goal, it certainly wasn't.
Shelburne: Clark. Molloy, Byrne, Griffin; Wilson, Lonnie (Coyle 77), McManus (Dervin 24), Ledwidge; Farrell, Boyd, Smith.
Shamrock Rovers: Manos. Gannon, Cleary, Kavanagh; Finn, O'Neill, Byrne, Watts (Towell 74), Farrugia (Maccan 46); Burke (EMACO 76), Gaffney (Green 68).
Rule: Ben Connolly.